Andrew J. Nazar
Missouri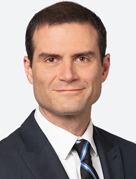 Polsinelli, P.C.
900 W. 48th Place
Suite 900
Kansas City, MO 64112
Tel: 816.395.0641

Email:

anazar@polsinelli.com
Web:

www.polsinelli.com
Andrew Nazar is a shareholder in Polsinelli's Bankruptcy and Restructuring practice group. He represents secured creditors, debtors, unsecured creditors, committees, guarantors, principals, trade creditors and vendors, landlords, licensees, tenants and the numerous other parties who voluntarily or involuntarily get caught up in bankruptcy proceedings, state court receiverships, collection actions and foreclosure suits.
Andrew enjoys relieving the stress, anxiety and frustration for clients that can accompany bankruptcy and financial restructuring matters, so clients can make clear and informed decisions. Clients enjoy working with Andrew because he is focused on making their lives easier. He takes the time to make sure clients understand complicated financial and bankruptcy issues. Andrew also counsels non-profit organizations with their unique issues and challenges—keeping in mind their particular philanthropic missions.
Andrew also quickly shepherds purchasers navigating the competitive and time sensitive issues presented in bankruptcy sales, so that they can minimize their risk and maximize their outcomes.
Particular examples include:
Prosecuting and defending numerous bankruptcy preference actions, including 220 brought in the first Interstate Bakeries Bankruptcy case. Successfully took several cases to trial and through appeal
Debtor's counsel in the first Ford dealership bankruptcy to successfully reorganize and continue operations in the United States
Counsel to foreign debtor in one of the first chapter 15 international bankruptcies to file in Missouri
Chapter 9 Debtor's counsel in confirmed plan of adjustment
Numerous complicated forbearance and loan workout negotiations and agreements relating to asset-based and real estate-based loans, whether documented as a part of a bankruptcy or outside a bankruptcy
Lender liability cases, where on behalf of borrowers or creditors, Andrew has prosecuted or defended cases where a lender is accused of violating the law
Andrew is also actively involved in the local bankruptcy bar and is a frequent presenter and facilitator of bankruptcy continuing legal education programs in the Kansas City area.
Polsinelli's Bankruptcy and Restructuring practice is a nationally recognized practice that is part of an Am Law 100 law firm with more than 950 attorneys, 23 offices and a national footprint with attorneys from Delaware and New York, across the heartland, to Los Angeles that provides cost-efficient legal services to its clients via a mid-market rate structure and a collaborative culture.
The attorneys primarily focus on representing Chapter 11 debtors, distressed borrowers and buyers and sellers of distressed assets. The Bankruptcy practice also represent official committees, trustees, individual creditors such as equity security holders, vendors, landlords and bankruptcy litigants throughout the United States. The Bankruptcy Group also specializes in non-bankruptcy alternatives, including assignments for the benefit of creditors, out-of-court workouts, receiverships and state court liquidations. In collaboration with Polsinelli's top-ranked health care practice, the Bankruptcy practice provides a special focus on distressed health care.
Polsinelli's Bankruptcy and Restructuring practice has received both statewide ranking for Bankruptcy and Restructuring as well as individual attorney rankings attorneys in the practice from Chambers USA for multiple years as well as Best Lawyers and other rating agencies. The practice is also widely recognized for The Devil's Dictionary of Bankruptcy Terms and the Polsinelli/TrBK Troller Distressed Indices.
Polsinelli is an Am Law 100 firm with more than 950 attorneys in 23 offices nationwide. Recognized as one of the top firms for excellent client service and client relationships, Polsinelli is committed on meeting our clients' expectations of 
what a law firm should be
.
Our attorneys provide value through practical legal counsel infused with business insight with a focus on health care, real estate, finance, technology, private equity, and corporate transactions.