Donald F. King
Virginia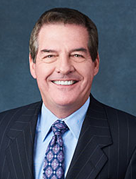 Odin, Feldman, & Pittleman, P.C.
1775 Wiehle Avenue, Suite 400
Reston, Virginia 20190
United States
Tel: (703) 218-2116

Email:

DonKing@ofplaw.com
Web:

www.ofplaw.com
Don King is head of the firm's Bankruptcy & Creditors' Rights practice. His work involves representation of debtors, creditors, and committees in Chapter 11 reorganizations, and he also represents other types of debtors and creditors, particularly businesses and institutional lenders, in all phases of the bankruptcy process including workouts. Since 1991, he has also served as a Chapter 7 Trustee in Bankruptcy for the Eastern District of Virginia.
Don has received an AV Rating, the highest rating given by Martindale-Hubbell® Peer Review Ratings™ for his legal ability and general ethical standards. He has been listed in the Best Lawyers in America® for the past 13 years. Don was also selected for inclusion in the Virginia Super Lawyers listing for the past ten consecutive years and in the Washington, D.C. Super Lawyers listing for nine years. Recently, he was named among Virginia Business magazine's "Legal Elite" in 2012, 2014 and 2017.
Odin, Feldman & Pittleman's Bankruptcy and Creditors' Rights attorneys assist clients in developing solutions to address the full scope of any financial problem. They also advise financially strong companies and lenders that have dealings with distressed companies as their business counterparts, those looking for opportunities in acquiring distressed assets, or those that find themselves ensnared in bankruptcy claims and litigation.
The team assists clients in devising creative, efficient and cost-effective solutions to the complex problems that arise in any stressed commercial transaction, either in or out of bankruptcy, with specialized expertise in the restructuring of debts outside of—and without the need for—a formal bankruptcy filing.
Representative Matters
Representative liquidating trustee in $14 million judgment against airline based in the People's Republic of China resulting in settlement and full payment to all creditors.
Acted as counsel to a chapter 11 trustee in recovery of an extensive real estate portfolio acquired by a chapter 11 debtor as a result of massive loan fraud.
Represented creditor in successful objection to confirmation of plan, sustained with prejudice, in a contested bench trial in the Bankruptcy Court for the Eastern District of Virginia.
Obtained judgment for creditor in contested bench trial in the D.C. Bankruptcy Court and declaration that the judgment was not dischargeable in bankruptcy based on the debtor's fraud.
Odin, Feldman & Pittleman, P.C., a full-service law firm located in Reston, Virginia, serves clients in the Washington, D.C. metropolitan area and throughout the nation. Established in 1972, the firm has grown to nearly 60 attorneys who offer experience in practice areas spanning the legal issues facing the businesses, non-profit organizations and individuals they serve.
The firm's attorneys partner with each client to understand their legal and business goals. Working together with clients, Odin, Feldman & Pittleman develop and vigorously implement strategies to achieve these goals, always weighing the need for legal work against the risks, costs and benefits.
Clients appreciate the team's accessibility, responsiveness, versatility and creativity. Their keen insight of how legal issues impact a client's business, life, and bottom line, combined with their commitment to protect their interests, has fostered relationships that span decades. Many of the firm's attorneys have worked at Odin, Feldman & Pittleman, P.C. a majority, if not all, of their careers. One reason for this is each attorney may choose their own practice areas, enabling them to pursue areas that interest them. Even Associates work on meaningful cases, gaining a lot of experience early in their careers.