Ilyse M. Homer
Florida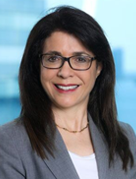 Berger Singerman LLP
1450 Brickell Avenue
Suite 1900
Miami, FL 33131
Tel: 305-714-4355

Email:

ihomer@bergersingerman.com
Web:

www.bergersingerman.com
Ilyse Homer is a partner and Team Manager of Berger Singerman's Business Reorganization Team. For more than twenty-five years, Ilyse has focused her legal practice on bankruptcy, insolvency, creditors' rights, commercial litigation, bankruptcy appeals, and assignments for creditors' benefit under state law.
As Team Manager of the firm's Business Reorganization Team, Ilyse oversees strategic team planning, workload assignment and utilization, mentoring newer attorneys, client intake, quality control and risk management.
Berger Singerman enjoys a substantial practice and fine regional and national reputation in engagements for complex litigation in a bankruptcy context. This practice draws from the depth and expertise of our Business Reorganization and Dispute Resolution Teams in prosecuting or defending complex contested matters and Adversary Proceedings in bankruptcy and various other frameworks for dispute resolution in a bankruptcy or insolvency context. Our successes in these cases has served as the platform for our engagement as special litigation counsel in many bankruptcy and insolvency related legal proceedings throughout the country.
With offices in Miami, Fort Lauderdale, Tallahassee, and West Palm Beach, Berger Singerman serves a diverse client base with a Florida focus and international scope. We practice throughout the U.S. and frequently handle matters in Europe, Asia and South America.
We limit our practice to areas in which our peers and credible third-party evaluators recognize us among the very best in Florida. We pride ourselves on our ability to deliver creative, effective and passionate client service to resolve any problem and to take advantage of any opportunity.
Serving the needs of successful individuals in advancing their business interests, as well as in building and preserving their wealth, forms the strong foundation for our practice. We are proud of the depth of expertise of our legal teams, who primarily focus on individuals and families. We work closely with financial advisors, law firms, accountants and trust companies to assist our clients in achieving their financial and philanthropic goals and endeavor to provide legal competitive advantages for their businesses.