Mary Joanne Dowd
District of Columbia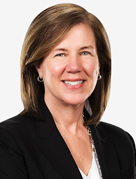 ArentFox Schiff LLP
1717 K Street NW
Washington, DC 20006
United States
Tel: 202.857.6059

Email:

Mary.Dowd@afslaw.com
Web:

www.afslaw.com
Mary Jo represents debtors, secured and unsecured creditors, committees, trustees, and asset purchasers in bankruptcy court cases, out-of-court debt restructures, and related litigation.
Mary Jo's practice includes representation of chapter 11 debtors as well as entities with loans, contracts, real estate leases, intellectual property licenses, supply agreements, franchise agreements, and other business relationships with debtors or potential debtors. She litigates a wide variety of bankruptcy and commercial matters, including lift stays, plan confirmations, claim objections, contract and lease assumptions and rejections, preferences, fraudulent transfers, withdrawals of reference, and guarantee claims.
Mary Jo served as a court-appointed Chapter 11 trustee in the Eastern District of Virginia and on the Chapter 7 bankruptcy trustee panel for the District of Maryland.
She represented a nationwide coalition of automotive dealers in their successful effort to have federal legislation enacted in the wake of the Chrysler and General Motors bankruptcy cases.
Mary Jo represented several Canadian debtors in the transportation industry in ancillary bankruptcy proceedings in the United States. She has represented the Pension Benefit Guaranty Corporation in bankruptcy cases.
Publications, Presentations & Recognitions
Chambers USA has recognized Mary Jo as a leading bankruptcy and restructuring lawyer in Washington, DC annually since 2006. She has been selected by her peers to be included in The Best Lawyers in America annually since 2006. In 2023, she was named as "Lawyer of the Year" for Litigation – Bankruptcy, Washington, DC by The Best Lawyers in America. Beginning in December 2004 and continuing through 2020, Washingtonian has named Mary Jo a "Top Lawyer" in bankruptcy law.
Mary Jo lectures on asset sales in the insolvency context, treatment of intellectual property licenses in bankruptcy, individual Chapter 11 bankruptcy issues, subchapter V, ethics, and evidentiary issues in bankruptcy litigation.
With unparalleled resources, experience and bench depth, ArentFox Schiff is a leading force in the bankruptcy and restructuring world. Our Bankruptcy & Financial Restructuring group advises clients across the country in every aspect of distressed situations, bankruptcy proceedings and financial restructurings.
We represent creditors' committees, indenture trustees, agents, bondholders, landlords, contract counterparties and vendors, debtors, secured creditors, lenders, and providers of financing in bankruptcy proceedings across industries, including health care and assisted living, energy, oil and gas exploration and production, mining, retail, airline, life sciences, manufacturing, telecommunications, metals, e-commerce and internet, restaurant, hotel and hospitality, medical technology, pharmaceuticals, construction, real estate, and bank and finance holding companies.
We also frequently advise and represent acquirers of and investors in troubled, distressed, and bankrupt companies.
ArentFox Schiff has a nationally recognized municipal restructuring and recovery practice.  Our team has been at the forefront of the most sophisticated, complex and groundbreaking municipal restructurings and bankruptcies.  We represented important stakeholders in nearly all large municipal bankruptcies in the last decade, including Stockton, San Bernardino, Detroit, and most recently Puerto Rico.  Our team is intimately familiar with unique legal issues implicated in municipal bankruptcies, from bond to constitutional to pension matters. We also regularly represent trustees, agents and bondholders in and out of court in complex workouts involving student housing projects, long term care facilities and skilled nursing homes.
We are often asked to represent debtors and counsel boards of directors and management of companies in stress, distress and bankruptcy.  We have particular expertise restructuring domestic subsidiaries of foreign holding companies.
ArentFox Schiff LLP is internationally recognized in core industries where business and the law intersect. With more than 650 lawyers and policy professionals the firm serves as a destination for an international roster of companies, governments, individuals, and trade associations.
Located in the country's major economic hubs and financial centers, we provide the critical counsel that our clients need to navigate problems found where business and the law intersect. We are proud to serve as go-to advisors to many of the world's top companies.