Michelle Boutin
Alaska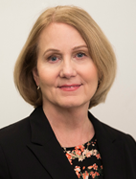 Landye Bennett Blumstein LLP
701 West Eighth Avenue
Suite 1100
Anchorage, AK 99501
Tel: 907-276-5152

Email:

michelleb@lbblawyers.com
Web:

www.lbblawyers.com
Michelle has been practicing in Alaska since 1986 and focuses on commercial litigation, lender representation, and creditor's rights in complex bankruptcy matters.
Before entering private practice, she clerked for U.S. Bankruptcy Judge Herbert A. Ross from 1986 – 1988, and served as head of FDIC's Alaska legal department for four years (1989 – 1993).
Michelle has represented creditors and bank creditors in Alaska's largest bankruptcy cases, and has also served as trustee counsel. She is currently representing creditors in Alaska's first "mega" Chapter 11 bankruptcy case, actively defending of preference claims and other complex issues.
Landye Bennett Blumstein's practice includes representation of creditors, financial institutions, businesses and other affected parties in collection matters, bankruptcy cases and related litigation. Our experienced attorneys cover the following areas:
General bankruptcy creditor representation, litigation and appeals
Bankruptcy Stay relief
Fraudulent transfer litigation, on behalf of plaintiff judgment creditors and defendant third-party transferees
Chapter 11 cases and related litigation on behalf of creditors
Distressed asset sales, stock-for-debt reorganizations, and the special needs of owners of tax pass-through entities (such as LLCs and S Corporations)
Judicial and non-judicial foreclosures
Vessel foreclosures
Secured loan collections and workouts
Landye Bennett Blumstein LLP is a leading U.S. law firm. From Alaska Native law to health care, housing, labor and tax law to personal injury and civil litigation, LBB lawyers are leading experts in their respective fields.
Additional practice areas include Administrative law, Native and Tribal, Appellate, Aviation, Bankruptcy, Business, Civil, Construction, Intellectual Property, Environmental and Natural Resource, Estate Planning, Fisheries, Advocacy, Housing, Liability defense, Municipal, Products Liability, and Real Estate law.
Our practice is built around a team of seasoned attorneys committed to the practice of sound legal practice and great client service.
"

Michelle Boutin

 is an experienced litigator who regularly handles bankruptcy cases. She often works with creditors."