Michael S. Dove
Minnesota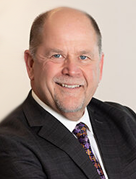 Gislason & Hunter LLP
2700 South Broadway
New Ulm, MN 56073
United States
Tel: 507-354-3111

Email:

mdove@gislason.com
Web:

www.gislason.com
Mike has extensive knowledge and expertise in the areas of debtor-creditor rights, bankruptcy, corporate law, agricultural law and commercial litigation.
Mike's practice has evolved into handling complex and sophisticated debtor-creditor and bankruptcy matters, representing numerous lending and financial institutions. Mike has also spoken at various seminars regarding collection and foreclosure bankruptcy issues.
Raised on the family farm near Appleton, Minnesota, Mike understands the importance of hard work and dedication and takes this approach in his law practice. After serving as a law clerk for the retired Honorable Gregory F. Kishel, United States Bankruptcy Judge, Mike's roots and love for rural life—and his extreme dislike for congested traffic—brought him to New Ulm, where he has been practicing law with Gislason & Hunter ever since 1993 and is a partner at the firm.
Education
Juris Doctor, cum laude, 1990, Hamline University School of Law

Bachelor of Science, 1984, University of Minnesota
Admissions
State of Iowa

State of Minnesota

United States Court of Appeals for the Eighth Circuit

United States Court of Appeals for the Ninth Circuit

United States District Court for the District of Minnesota

United States District Court for the District of Nebraska
The law firm of Gislason & Hunter has a long history of building lasting relationships with the clients and communities we serve. For more than 80 years, our mission has been to deliver the very best in service and results. We enjoy a reputation as one of the premier civil litigation and corporate transaction firms in the upper midwest. Our accomplished attorneys bring substantial trial experience and industry-specific knowledge to our primary areas of practice.
Gislason & Hunter's core clients are business owners, corporate executives, professionals, farmers and agribusinesses, banks and insurance companies with diverse and intertwined legal matters—from contract negotiations and business financing to employment issues, regulatory compliance and insurance defense. Gislason & Hunter assembles cross-discipline teams to provide comprehensive counsel and appropriate firepower. Our formidable courtroom abilities are tempered by a healthy measure of common sense; we first explore out-of-court resolutions and we are sensitive to helping clients contain costs and preserve key relationships.
Our talent and resources compare favorably with major Twin Cities firms, yet Gislason & Hunter is deeply rooted in traditional notions of hard work, fairness, integrity and personal attention. Most of our lawyers were born and raised in the midwest, with offices in New Ulm and Mankato. We are also deeply committed to the communities where we live and work. We value relationships with people and cornerstone employers, and we are proud that many individuals, families and corporate clients have been with our firm for decades.