Monique Jewett-Brewster
California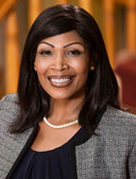 Hopkins & Carley™
70 S 1st St
San Jose, CA 95113
United States
Tel: 408.299.1428

Email:

mjb@hopkinscarley.com
Web:

www.hopkinscarley.com
Monique Jewett-Brewster is Chair of the Financial Institutions and Creditors Rights Practice Group and a member of Hopkins & Carley's Litigation Department in the San Jose office.  Monique has over twenty years of experience advising creditor clients in business bankruptcies and in all other aspects of insolvency law, with a primary focus on advocating for secured and unsecured creditors in the workout, restructuring and enforcement of commercial loan and other business transactions in state, district, appellate and bankruptcy courts nationwide. She also counsels the City of Oakland in its bankruptcy matters.
Monique is honored to have served as the 2018-19 Chair of the Business Law Section of the California Lawyers Association (CLA), the largest statewide voluntary bar association in the country.  An insolvency lawyer for the entirety of her law career, Monique formerly served as Co-Chair of the Insolvency Law Committee of the Business Law Section, attorney member of the prestigious Bench Bar Liaison Committee of the United States Bankruptcy Court for the Northern District of California, and director of the Bay Area Bankruptcy Forum.
After completing two externships during law school with three bankruptcy judges, Monique completed a two-year post-graduate clerkship with the Hon. Meredith A. Jury, U.S. Bankruptcy Judge for the Central District of California (ret.).  She is also a recipient of the Hon. Cornelius Blackshear Presidential Fellowship presented by the National Conference of Bankruptcy Judges.
Monique is passionate about increasing diversity, equality and inclusion in the legal profession.  She was the inaugural Chair of the CLA's Diversity Outreach Committee, which works to increase diversity in the student pathways to careers in the legal field. Monique also served on the Board of the Black Women Lawyers of Northern California, and is a past member of the California Minority Counsel Program (CMCP)'s Ambassadors Council, which works to expand CMCP's outreach and promote the advancement of business attorneys of color.
With a love of sharing knowledge, Monique has presented for the CLA's Business Law Section, Continuing Education of the Bar (CEB), California Bankruptcy Forum, Bar Association of San Francisco, Alameda County Bar Association, California Minority Counsel Program, California Bankers Association and Western Bankers Association, among other organizations. Monique also authored a chapter on the impact of bankruptcy on real property title and sales included in CEB's Real Property Ownership and Taxation practice guide, and has served as a contributing author to Westlaw's Commercial Finance Newsletter as a member of the CLA Business Law Section's ad hoc authors committee.
Our group represents creditors and other non-debtor parties in a broad range of commercial bankruptcy, reorganization, and workout matters, including related litigation and credit and business transactions.
Our extensive experience with reorganizations, restructurings and insolvencies, creditor-debtor relationships, and bankruptcy allows us to achieve positive results for our clients.  We protect their interests and rights in and out of bankruptcy proceedings on an expeditious and cost-effective basis, with an eye toward reducing litigation risk and expense whenever possible.
Our bankruptcy and insolvency attorneys are expert in issues involving:
Cash collateral
Claim prosecution and defense
Dischargeability actions
Disclosure statements and reorganization plan negotiations and proceedings
Environmental matters
Landlord representation
Preference and fraudulent conveyance defense
Prosecution and defense of appeals
Relief from stay, abandonment and other substantive motions
Sales or other dispositions of assets
Alternative insolvency proceedings such as assignments for benefit of creditors
Hopkins & Carley represents secured and unsecured creditors, asset purchasers, vendors, landlords, state court receivers, trustees, and other interested parties.
We have worked on behalf of clients in the technology, food and beverage, retail, industrial and manufacturing sectors, as well as from many other industries.
Hopkins & Carley's history reflects the evolution, entrepreneurship and vibrancy of Silicon Valley, the Firm's home since 1968. Over the past five decades, leading businesses in nearly all industries, high net worth individuals, and institutions, in Northern California and beyond, have sought our assistance with complex transactions, must-win litigation, and trusted counseling on significant business and personal issues.
Our business clients rely on us for transactions and litigation involving commercial, corporate, financial and real estate matters, IP litigation and protection, and employment counseling, litigation and class action defense. For our individual clients, we handle everything from sophisticated legacy planning to personal employment issues to complex trust and other litigation. We have a deep bench of well-respected trial attorneys who collectively have tried hundreds of cases in local, state and federal courts.
Since its founding, Hopkins & Carley has established deep and strong roots in Silicon Valley, and the firm is proud to work with the third and fourth generations of some of our original clients.  We have been honored to grow alongside a number of companies that have evolved from small brick and mortar enterprises to multi-national businesses.  The firm understands the industries in which our clients operate, and recognizes that legal and business issues often are inextricably intertwined.
We believe our longevity and growth are a result of exceptionally attentive service, an understanding of each client's needs, and our direct and rapid response to their questions and concerns – delivered with respect, integrity and civility. Our clients tell us that we deliver sophisticated, practical legal counsel at a fair price.
Hopkins & Carley is committed to continuing to provide outstanding, legal services while improving our community through our service and involvement.