Sarah Beth Wilson
Mississippi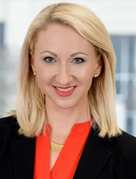 Phelps Dunbar LLP
4270 I-55 North
Jackson, MS 39211-6391
United States
Tel: 601-360-9706

Email:

sarah.beth.wilson@phelps.com
Web:

www.phelps.com
Sarah Beth Wilson represents financial institutions and other corporate entities in business-bankruptcy cases and adversary proceedings as well. She leads the multi-member bankruptcy practice group at Phelps representing clients in commercial bankruptcy, asset sales, and related litigation cases across the Southeast including in Texas, Louisiana, Mississippi, Alabama, and Florida.
Her practice also includes defending clients against lender liability claims, property rights and interests, title and contractual disputes, and in connection with loan modifications, commercial foreclosure and property and equipment sales, and other creditors' rights enforcement and collection matters.
Sarah Beth is Chairman of the Mississippi Board of Banking Review representing the 22 counties in Supreme Court District 1, which includes the state capital of Jackson and its surrounding metro areas. She was also appointed by the Mississippi Bankers Association to the statewide Bank Attorneys Committee to advise on legal issues and pending legislation impacting lenders and financial institutions. Additionally, she was the former Chairman of the Local Rules Advisory Committee (LRAC) for the Local Rules of Bankruptcy Procedure for the Northern and Southern Districts of Mississippi, governing practice and procedure in bankruptcy courts statewide.
Sarah Beth is a Nationally Board Certified Specialist in Business-Bankruptcy Law by the American Board of Certification, an achievement and honor held by only eight other attorneys in the State of Mississippi.
Education
Mississippi College School of Law, J.D., magna cum laude, 2010
Millsaps College, B.B.A., Accounting and Economics, cum laude, 2007
Admissions
Mississippi

U.S. Court of Appeals for the Fifth Circuit

U.S. District Court, Northern District of Mississippi

U.S. District Court, Southern District of Mississippi

U.S. Bankruptcy Court, Northern District of Mississippi

U.S. Bankruptcy Court, Southern District of Mississippi
Phelps' Bankruptcy practice holds decades of experience in representing clients in all aspects of restructuring and insolvency. Our team can guide you through seeking non-bankruptcy alternatives to reduce debt through other avenues, securing new sources of capital or negotiating and preparing for Chapter 11, 7 and 13. We can protect interests through solutions that create and preserve value, from first-day pleading to plans of reorganization or litigation, if necessary.
The firm's bankruptcy services include:
Consolidations
Forbearance agreements and loan document amendments
Chapter 11, Chapter 7 and Chapter 13 preparation and litigation
Collections and state foreclosures and liquidations
Restructurings
Representation and counseling for Secured and Unsecured Creditors
Insurance and reinsurance representation
Enforcement of statutory and contractual lien rights and security interests
Enforcement of Creditors' Rights through lease agreements and commercial contracts
We have provided counsel for clients in the oil and gas, retail, banking, landlord, telecommunications, healthcare and construction industries. For the largest fraudulent conveyance action ever filed in the State of Louisiana, we helped numerous corporate and individual clients pursue more than $100 million in claims.
Companies with business interests across the South turn to Phelps Dunbar for counsel on their legal needs. With 13 office locations in the U.S. and in London, we serve clients in the region's major commercial centers. Our 350-plus lawyers focus on six core areas: labor and employment, litigation, business, admiralty, insurance coverage and healthcare. But it's more than our casework that sets our firm apart.
We spend time with you off the clock, so we can learn everything from your strategic goals to challenging operational issues. We are known for asking questions, not just about what is, but about what should be. And we make sure that you access our experience seamlessly, with every lawyer in every office available to be part of your team. We do this because anything can make the difference in a business-critical deal or lawsuit.
We embrace the future, not just of your industry but of our own. We are constantly looking for how to improve services and outcomes through technology. Through our Phelps Analytics Lab, we partner with Tulane University to pilot programs that use AI to identify business trends, develop litigation strategies and improve efficiency.
We are proud to offer national talent with local pricing to companies working throughout the Gulf South. We welcome the chance to work with you.